Print Ready
The easiest way for Action Printing to print your files is with a PDF so with that in mind here's a guide for you to make sure you have all the bases covered when supplying us artwork.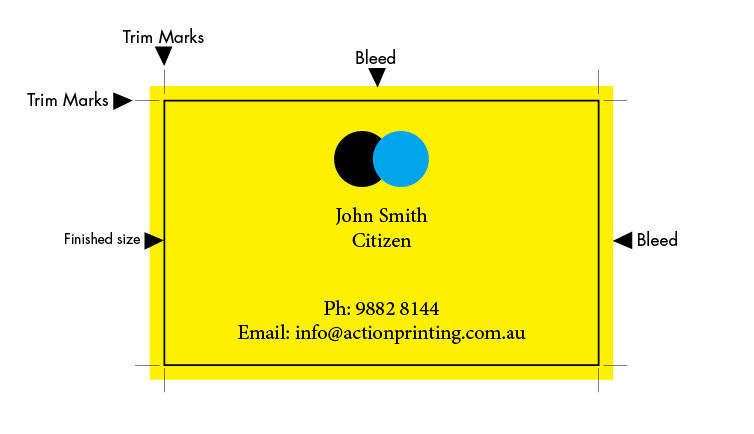 Bleed - Any colour/images or text that sit on the edge of the finished artwork must extend 3mm beyond that edge, this means when we trim your job, it leaves it with a clean finish.
Trim marks - this is the lines that help us to trim your job to the exact size you want.
Finished Size - the final size of your print job
(black border in example is not to be included and is just used as a visual)
If your files meet these specifications please send your order details and file attached to: actionpr@bigpond.net.au
When sending a PDF for print please check you have done the following:
Supply a multiple page PDF with 1up artwork on each page
Colour mode MUST be CMYK not RGB
Include crop marks and 3mm bleed
Ensure artwork is centered in document and that text and non bleed images be kept 3mm from trims
All fonts must be embedded, you can also outline fonts before creating a PDF to avoid issues (please note, if changes are needed we cannot edit outlined font)
Supply images as 300dpi, with the colour profile set as CMYK no RGB
Please Note Action Printing cannot accept responsibility for errors due to files that do not meet specifications.

If you cannot make these changes yourself, we can do them for you. There may be Artwork/Typesetting charges that varies on the specifications for the artwork.